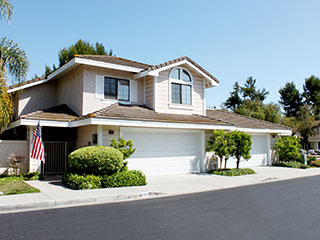 Any time you invest in updating your home, you want to make sure that you spend your money wisely. When it comes to garage doors, you may be surprised by the number of options on the market. You can choose from a variety of materials, finishes and decorative details such as a glass panel insert. To ensure that you get the most out of your money and a garage door that will not only look great, but last for years to come, here are some tips to keep in mind.
Most Popular Options
Steel and aluminum overhead doors are by far the most popular options in homes across America. Both materials come with a low price point and offers durable performance and easy installation and garage door maintenance. These doors are also great because they can be painted and given a variety of textures to enhance your curb appeal. Just be aware that steel and aluminum are not great insulators and if you go with a metal door, be sure to purchase a thickness that will be able to withstand inevitable impacts from objects like basketballs. Look for a door that offers at least 24 gauge steel. Anything thinner will easily become dented and quickly lose its pristine appearance.
Wood is also a popular option that is still relatively affordable and offers better insulation than metal materials. Those who invest in traditional wood doors are often looking for a stylish addition to their home. While wood also offers superior durability and impact resistance, you will have to stain the door regularly to keep it looking good. Not every homeowner is interested in investing that kind of time into maintenance. More than anything, a wooden door adds a level of sophistication that other materials can imitate to a certain extent, yet the original will always have that certain appeal.
Finally, those living in coastal areas may want to look into fiberglass doors. These models feature an aluminum frame that is covered in fiberglass that is dent resistant and can be painted any color. However, fiberglass is a light material that doesn't provide much insulation and will need to be painted fairly often. The biggest advantage of a fiberglass door is that it is salt water resistant. While other door materials will experience corrosion and need to be replaced more often, fiberglass models offer a more resilient design that is ideal for homes along the coasts.