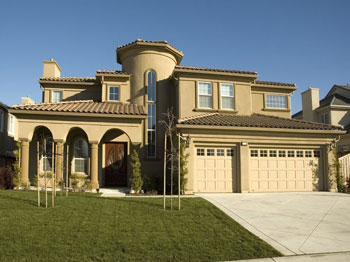 Garage door maintenance is important if you want to prolong the life of your garage doors and get the most out of this part of your house investment. This summer, you can take advantage of the nice, warm weather to check on how your garage door is doing and see if you can make any improvements. Here are some of the things you can do to service your garage.
Cleaning
Regularly wash the door with water and mild detergent to remove dust, dirt, and grime that have accumulated during the past months. Doing so will improve the overall appearance of your garage. Use a hose to wet the surface and use a clean rag to gently scrub the surface with warm, soapy water. Spray water from the hose to rinse off the soap and allow it to dry on its own.
Lubrication
From time to time, use a lubricant—not grease—to oil the mechanical parts of your garage door such as its tracks and hinges. This ensures that the door operates with smooth, quiet efficiency and will prevent loud noises or screeches whenever the garage is being used.
Replacement
Due to wear and tear, parts may malfunction, such as your garage door torsion springs. The sensors might stop working or the door could become unbalanced. If some parts or specifications of the door start having issues, you need a professional to come out and assess needed repairs such as sensors replacement.
Inspection
Do a visual inspection of your garage door. If you notice something is out of place or if you hear strange noises coming out of it while in operation, you can also ask a professional to do a maintenance service to get your door up to speed.
Removing Rust
To clean a rusty garage door, scrub it with a clean rag that has been dipped in vinegar. You can also clean it using a baking soda and water mixture. Wipe it clean with water.
New Coat of Paint
After you have thoroughly cleaned the surface of the garage door, apply a new coat of fresh paint all over as a finishing touch. This will have your garage looking good as new.
Adding your garage door to your to-do list this summer will go a long way in extending its life, and preventing costly repairs that could have been easily prevented in the first place.