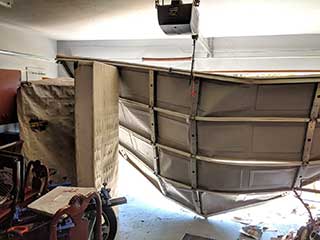 It's not every problem that requires an urgent solution. But when those arise, you want them fixed fast. Our local technicians offer Sunnyvale garage door repair services that provide quick assistance for all major problems. Whether you've got a cable off the drum or a broken spring, an immediate solution is available on the same day you reach out. With such critical garage door problems, speedy repairs become very important. You want to waste as little time as possible dealing with the issue, after all. And with help from our garage door repairmen, that won't be a problem.
Got a Broken Spring I Need Replaced
It's easy to tell when a garage door spring broke. For once, you'll likely hear a loud bang when it breaks, due to the sudden release of tension. If the door is in the air, you'll very likely see it drop or even slam down. And should you try to lift the garage door then, you'll find it a lot harder all of a sudden. Broken garage door spring replacement involves dealing with some dangerous tension. When you load the new spring, you need to do so carefully so as not to accidentally break it. Therefore, it's better to let a professional garage door repair technician near your Sunnyvale area handle the job. People get hurt every year trying to install springs by themselves. Avoid becoming a statistic and leave this work to the pros.
I Need The Garage Door Opener Repaired
A problem that makes the door move in an unusual way or not operate to its full capacity oftentimes involves the garage door opener. Finding the cause isn't always obvious right away. Weak or broken motor gears can lead to failure to open all the way, but so can travel limit issues or opener sensor misalignment. Logic board malfunctions or garage door opener remote not working can occur because of bad wiring or physical damage to components. Every problem can have a few different causes, and with our opener troubleshooting service, we help Sunnyvale garage doors go back to normal function. No need to waste time straining to figure out what's wrong. Let the experts handle it and go back to your day in no time.
Get Sunnyvale Garage Door Parts Repaired
Our service assistance covers all sorts of problems and malfunctions you might experience. The garage door getting off track or the roller popping out are common issues. So is the garage door not opening or the remote control not working. Then you've got frayed cables coming off the drum, damaged panels, and track misalignment, to mention a few more. Whatever the problem, Garage Door Repair Sunnyvale is here to help with emergency repairs 7-days a week. Need help right now? Call from all nearby areas to get same-day service solutions!