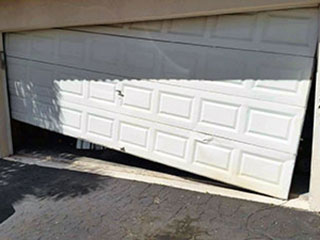 When your door is giving you trouble, our team is here to help offering a selection of professional repair and replacement services.
Replacing A Broken Spring
When you have a broken spring, your door will not be able to function even with the other springs intact. The integrity and function of your door depends heavily on the proper functioning of its springs. Whether you have a torsion or extension spring setup, once the coil breaks, it cannot be fixed and must be replaced. One of our most common garage door repair services is broken spring replacement. We make sure to carry various sizes with us to ensure the problem is taken care of right then and there.
Garage Door Repair & Panel Replacement
The panels on your door are built to withstand punishment. However, wear and tear, rust or direct physical stresses due to impact forces may result in damage that compromises the integrity and function of the door. When this happens, you need to get garage door repair services done. We can help you with this problem. Panel replacement is one of the many services that we are good at. We have a multitude of available replacement panels for you to choose from. We will be able to match the type or make of your door with ease.
Roller & Cable Replacement Services
The roller and cable system that allows transfer of energy from your springs to your door is very vulnerable to damage that will compromise your door's function. When these parts break and you would like to have them fixed right away, call our company for same day service repair. Our experts are trained to handle any type of issue concerning rollers, cables and tracks with ease. Not only are we prepared with the needed repair techniques, we also have the right compatible parts to make your door look and function like new.
Call Us For Expert Reinforcement
If you are at a loss with how to go about with your door repair, then call us for expert reinforcement. We at Garage Door Repair Sunnyvale, know what must be done to get your door in tip-top shape.
Need more? We also provide:
Liftmaster Chain Drive Lubrication
Screw Drive Opener Replacement
Oil Tempered Torsion Springs
Bent Garage Door Track Repair