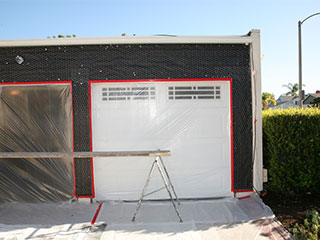 As important as garage doors are, they can also be very dangerous if they are not properly maintained. This is why it's imperative to call us for regular garage door maintenance. Our professional technicians will check every inch of your garage door and make sure it is safe to use and that you will not be putting your family at danger by operating it. By regularly checking your door and repairing every minor issue on the spot, we can ensure your door will continue functioning optimally for a very long time.
Checking the Door's Balance
It's important that your garage door is balanced correctly. This means it will move evenly up and down the tracks when in operation. If it is unbalanced, then there is more than likely a problem with the springs, and our experts can easily repair this issue. An unbalanced garage door will not shut evenly, and will leave a gap, even a tiny one, that could be exploited by burglars and provide all sorts of pests with an entry point. Since springs are dangerous to handle without the necessary training, you should leave the adjustment work to our technicians. We check the door balance during every maintenance appointment.
Examining and Lubricating The Springs
The springs are in charge of supporting the weight of the garage door panels, and therefore they can eventually succumb to wear and tear damage and break. To avoid such a dangerous accident, our technicians will inspect every inch of their coils and apply them with the proper lubricant. If we see that your springs are about to break, we'll replace them on the spot.
Testing The Safety Sensors
Another safety feature we will check during our preventative garage door maintenance appointments is if the safety reversal system. Your opener uses a pair of photo-electric eyes in order to detect an obstacle in the door's path. If your safety sensors aren't forcing the door to reverse when something is blocking its path then they need to be realigned. Since these are delicate components, an expert's touch is required. We'll make sure your garage door never goes "cross-eyed".
Contact Us Today
It's time to call our experts at Garage Door Repair Sunnyvale to make a maintenance appointment. We'll ensure your garage door is well-maintained and working the way that it should. Call us today!
Couldn't find what you're looking for? We also offer:
New Garage Door Clickers & Remotes
Galvanized Torsion Spring Replacement
Overhead Door Installation