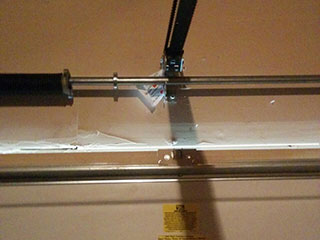 There are two types of spring systems that are used to power today's garage doors. Torsion springs are the most common and used stored energy to lift the door. Typically, the springs are mounted above the door and connected to the door with cables. When the door is lowered, the springs are twisted and energy is built up so that there is enough power to raise the door when you are ready for it to open. Extension springs also rely on built up energy, but are stretched instead of twisted in order to store energy, which ultimately makes them less durable and gives them a shorter lifespan.
Don't Attempt Spring Repair Yourself
Although homeowners may be able to diagnose simple problems and perform some garage door maintenance tasks, any spring repair or replacement jobs should be left to the experts. The amount of tension that builds up in the springs can create a high risk situation that could result in serious injury. The good news is that the expert technicians at Garage Door Repair Sunnyvale are well versed in safely handling spring projects and we can quickly and safely install new springs that will easily handle the weight of your specific door and provide smooth operation for years to come. If your garage door is making distinct squeaky noises or not lifting as smoothly as it should, take advantage of our expertise and get return your door to perfect working order.